I'm very excited about the reprint of my book Top Secret Stuff (1990). TSS has been out of print for the past 17 years, and I am very happy to make the book available again.

TOP SECRET STUFF contains solid routines and new ideas - hot stuff with cards, coins and other ordinary objects that will garner smiles, gasps, amazed looks and applause.

TSS is 8.5x11, full color, soft cover with spiral binding for easy access.

From the foreword by Jon Racherbaumer: "..tricks that will make you think... and remind you of WHY you're a cardman and why you love card magic."

Only $35

($3.00 shipping)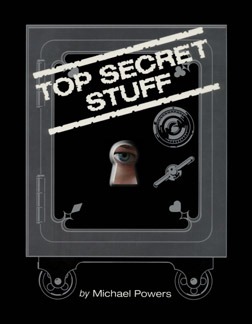 Front Cover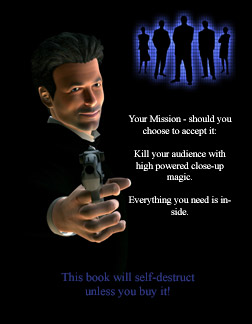 Back Cover
| | |
| --- | --- |
| U.S. Orders Media mail ($38) | |
| U.S. Orders Priority mail $40 | |
| Foreign Orders $45 1st Class International | |
(note: PayPal will charge $35 for Media Mail, $37 for Priority and $42 for foreign orders. Then $3.00 will be added totals of $38 for Media mail; $40 for Priority; and $45 for 1st Class International)

Checks and Money Orders to:

Mike Powers Magic
1701 Monroe St.
La Porte IN 46350
219-325-8120

THE HYPE
Click Here for the complete Table of Contents
Top Secret Stuff contains a wide selection of highly visual magic (mostly using cards and coins). There are 45 items fully illustrated with line drawings and explained in great detail. Here's what the experts said:
Willmarth: "...card magic you can and will do.. many strong effects... highly recommended."
Lorayne: "TOP SECRET STUFF contains some good 'stuff.'"
Michael Weber: "Best looking in house produced book I've seen in recent times...Twilight Zone.. great handling of Twilight Mirror routine, Jelly Roll is terrific.. Swinger will become a miniature modern classic!"
Busby: "quite novel... excellent thinking.."
Racherbaumer: "...tricks that will make you think... and remind you of WHY you're a cardman and why you love card magic."
Click Here for the complete Table of Contents
TOP SECRET STUFF
Full color cover (see above)

180 pages - 8.5"x11"

soft cover

45 items

Over 170 illustrations

Cards, coins, rings, jelly containers, straws etc

visual magic

Foreword by Jon Racherbaumer